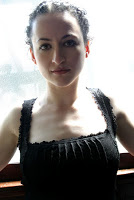 Sarah Allegra is a Los Angeles-based fine art photographer specializing in conceptual and self-portrait imagery. A self-taught photographer, she has also indulged in other forms of artistic expression – from painting to songwriting – since she could first hold a crayon. Her photography is darkly ethereal, deeply symbolic and other-worldly. Drawing inspiration from music, books, fairy tales and her own personal demons, she creates visual poetry through her work.
You can discover more about Sarah and her work by visiting her website and her collection of photographs on Flickr. You can also follow her on Twitter.
Sarah Allegra recommends the work of Geoffrey Ashley. (Some images on this site are NSFW).